Self Made Glamour Girl
She's been one of the hottest newcomers since the beginning of 2017, and if gorgeous Vanessa Jhons has anything to do with it, all fans of Transsexual Adult will know her name before her career is over.

Vanessa is a fully transitioned glamour girl who was a little shy about entering the adult industry at first, but her lusty and sexual nature lead her into what has become a series of highly erotic scenes starring this hot blooded Latina.
We were fortunate recently to sit down with her in a revealing interview that shows Vanessa's passion for sex, and pleasing her fans.

In addition to working with some of the top websites and productions companies, Vanessa produces her own content which she makes available through OnlyFans.Com.

Join us now in welcoming a very sweet and down to earth girl who is passionate about her life as a glamour girl, and her work as an erotic actress.

Interview With TS Porn Star Vanessa Jhons
TS-Newsreel: Welcome to TS-Newsreel, tell us a little about yourself. Where are you from and how long have you been working in the adult industry?

Vanessa: First of all, thank you very much for having me for this interview. I am a Venezuelan girl from the city of Valencia, living now in Barcelona Spain for more than 14 years, I entered the world of porn exactly one year ago.

TS-Newsreel: Is there a supportive gay, lesbian, and transgendered community where you live?

Vanessa: Spain is a multicultural country and there are many communities of support referring to these issues, although today in the world, the gay theme is more accepted than transgenders.

TS-Newsreel: What inspired you to become an adult performer and model?

Vanessa: I had received many proposals to perform, which I always rejected for the shame of exposing myself in videos to the public. But one day a friend told me that she had a video shoot and invited me to go, when I saw how the scenes were developed, it caught my attention. That's how I started (I'm not going to deny that I did it too because I love sex, lol).

TS-Newsreel: Sexually, are you a top? (aggressive, prefer fucking), or a bottom? (passive, prefer to be penetrated).

Vanessa: I like everything, lol. I am active and passive, I like both equally, I just enjoy sex.

TS-Newsreel: Tell us what companies you have worked for, what are your favorite scenes you have performed in?

Vanessa: My first scene was for Trans500.Com, I've worked for VirtualRealTrans , VRBtrans, TSVirtuallover, and Grooby Productions. I think that each scene has something that I like, although the hardcore scene that I did for UK-Tgirls.Com I liked a lot, I did the fucking, lol.
DOWNLOAD VANESSA'S DEBUT HARDCORE SCENE FOR UK-TGIRLS.COM >> HERE <<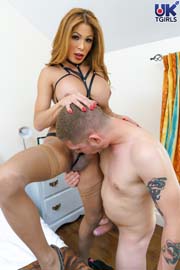 TS-Newsreel: Are you filming your own personal sex scenes? Where can your fans find them?

Vanessa: I only have one year recording in which I feel sastified for everything I have achieved, I have been able to record more than 30 scenes. My plan this year is to produce more of my own scenes, my current scenes are available at ManyVids.Com and OnlyFans.Com.

TS-Newsreel: What are your plans or career goals in 2018?

Vanessa: My plans for this year in principle are to be happy and feel full with what I do. My most immediate plan is to make myself known in this world, I have only been in the adult business for a year, I still have a long way to go.

TS-Newsreel: Is there anything additionally you would like your fans to know about yourself?

Vanessa: In general to thank all of them for being there day by day, they are demonstrating that the work I do is worthwhile and it is for them that I try to fight and overcome myself despite the many barriers that one can come against. Again, thanks to all of you for giving me the opportunity to perform for you and to get to know me a little better.

Be sure to follow Vanessa Jhons on these popular networks:
Twitter @vanessajhons
Facebook Vanessa.Jhons
Instagram Instagram/VanessaJhons

---